sustainable. craft. fashion
Made in England
Hero pieces designed to last a lifetime.
Slow fashion, made in small batches using natural materials.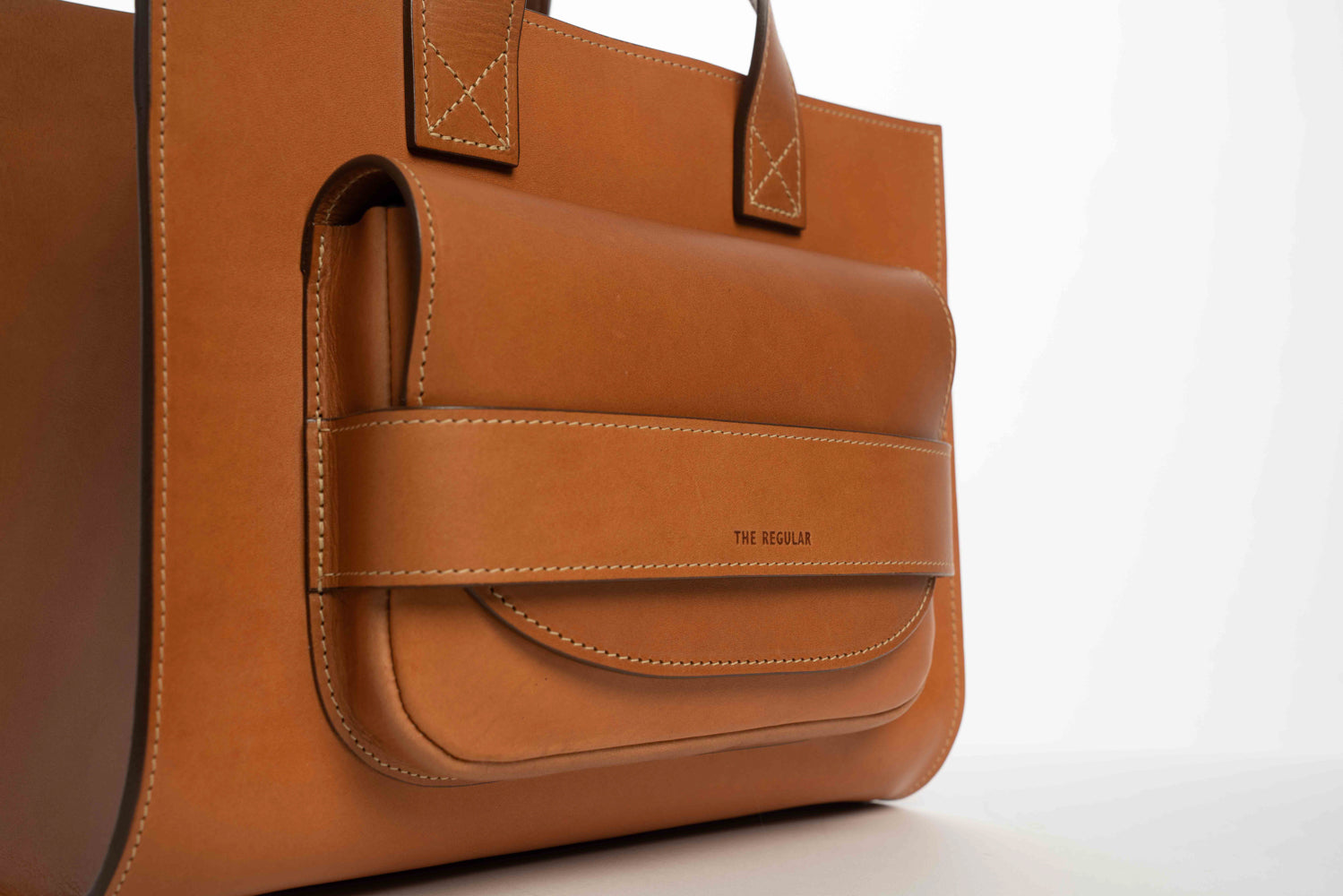 The 'Pioneer Tote'
Our Pioneer Totes are made in the heart of England's leather goods region by a small family run business with a team of highly skilled crafts people. Carefully made using Italian vegetable tanned leather. The natural state of this leather means that no two totes will ever be the same. Each mark and changed in the grain gives each tote it's own personality with a patina that will develop and only improve with age. No fancy gimmicks or trend led details just honest design that will be sure to stand the test of time.
Journal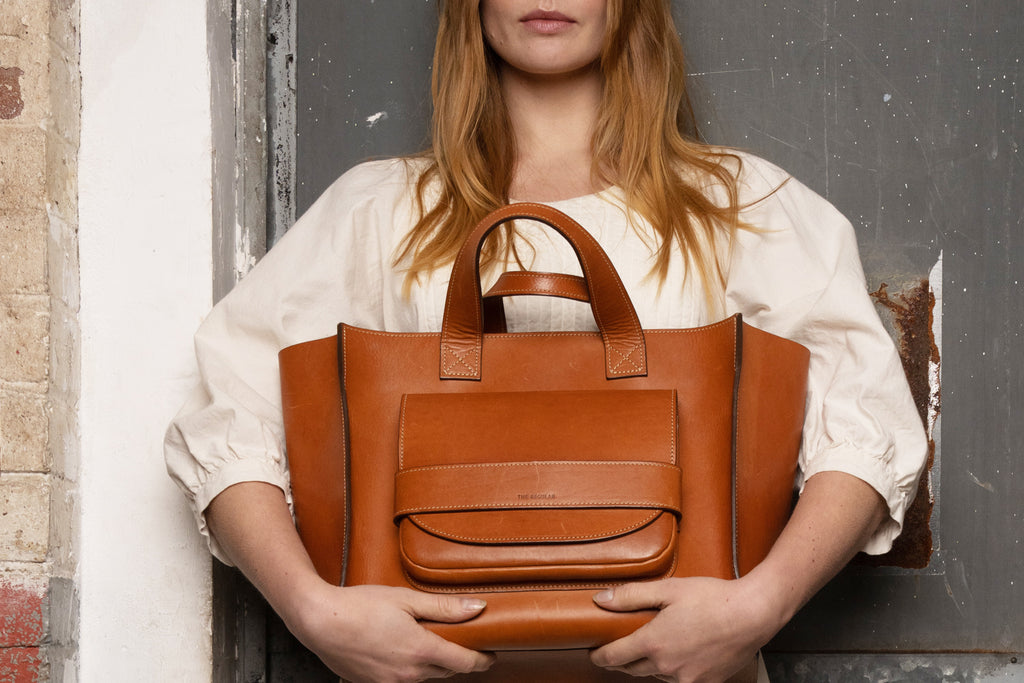 DO YOU USE VEGAN LEATHER?
In short, no, we don't.  Not yet.  It's something we're looking into - but this blog explains why we're staying with our natural veg tan leather for our totes.  Like everything, it's a personal choice, but we wanted to share with you our thoughts on why we've come to this decision.
WHAT IS "VEGAN" LEATHER?
Vegan leather is a material used extensively in the fashion industry to make bags and accessories.  It's often made with natural resources, such as apple peel, mushrooms or pineapple skin.  However, in order for the fabric to be durable and strong, it is usually bonded together with a PU (polyurethane) or PVC (polyvinyl chloride). 
WHY DON'T WE USE VEGAN LEATHER?
We are asked this question A LOT.  We are constantly researching options in this field, but currently, there aren't any vegan leather alternatives which chime fully with our sustainability goals.
There are two main reasons we don't use vegan leather at the moment:
Number one is the longevity of the material.  Commercially available vegan leather is almost always bonded with some kind of synthetic material, it simply doesn't age well: it peels, separates and scuffs. This, in turn, often leads to products looking worn and old before their time, resulting in them being sent to landfill earlier on in their lifecycle, adding to fashion's huge waste problem.
One of our most important core values at The Regular is that every item we design and make gets better with age, and we have yet to find a vegan leather which does that.
Secondly, due to the synthetic component in vegan leathers, it doesn't biodegrade.  Nor can it be repaired easily - scuffs can't be buffed out and the upkeep is challenging, and repairs are often not possible.
There's a lot of Greenwashing around the vegan leather debate.  Many companies are using an inexpensive PU/PVC material and calling it "vegan leather" but it's simply a synthetic material, which uses a lot of chemicals in the manufacturing process.
WHAT KIND OF LEATHER DO WE USE?
We only use natural, vegetable tanned leather.  The tannery we source it from in Italy, is part of the "Pelle Conciata Al Vegatale In Toscana" (Vegetable Tanned Leather of Tuscany).  This internationally recognised association has a trademark which functions as a quality and traceability system for all of the tanneries that are associated with it.
Our vegetable tanned leather is much kinder to the environment than regular leather, as it uses far fewer chemicals, and the process of tanning is much, much longer (it can take up to six weeks to make the quality we use).  Much of the leather used in the fashion industry is "corrected grain" leather - which is made from lower quality hide (the lower layers of the hide).  It's "corrected" by sanding or embossing the surface to remove all imperfections, and then an artificial grain is embossed on top, to give it a "even look".  Many large companies only use this kind of leather as it passes QC tests easily. It's also much cheaper.
The vegetable tanned leather we use is a full grain leather, which is the highest grade.  It's very natural and the finish on it is minimal.  You can see the natural markings, and quite frankly, we love that.  It can be repaired easily and it will last you a lifetime.
Our Pioneer Totes always look better with age, and wear.  They tell a story.  Over time the leather softens, the handles mould to your hands and the bag takes on a beautiful patina that's unique to each wearer.  We don't want you to buy a new one every season - it's a genuine bag for life, that can be handed down through generations.
This is our take on sustainability - and this is why we've made the decision to use this beautiful material.
ZERO WASTE PRODUCTION
Leather was probably one of the very first forms of recycling.  Our leather is a by-product of the food industry, so it forms part of our strides towards a zero waste policy.
THE FUTURE
Many of the high end, luxury conglomerates are funding research into vegan leather, so we're keeping a close eye on developments in this field.  When something "feels right" and fits with our "last forever" ethos, we would love to offer a vegan alternative.  Watch this space...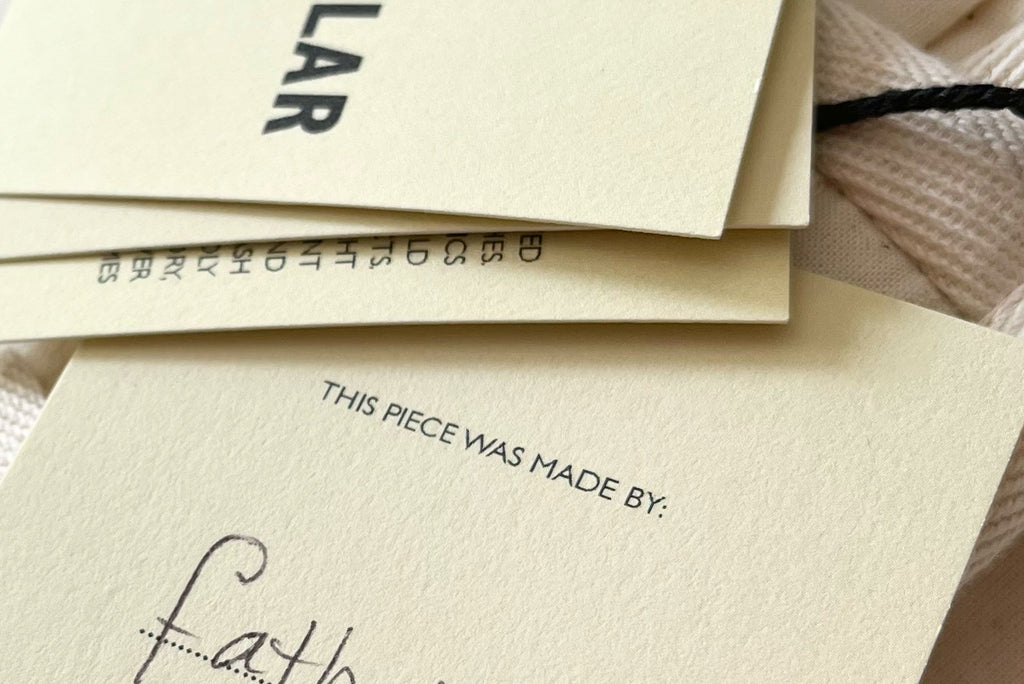 We are proud to, once again, be collaborating with 'Stitches in Time' who have made this very special, first drop of 'Quilt Pockets' for us.  


"I came to classes at Stitches in time for 5 years, and have been working in the charity for 10 years now.  I am one of the main manufacturers for FabricWorks...I feel so happy and proud to make things for so many paople.   The money I have earned means I am able to support my family."

Based in East London 'Stitches in Time' began with a simple experiment to see if sewing could start conversations between strangers.  Over the years it has grown and through using creative projects as a starting point it has been able to support culturally diverse groups, some facing disadvantage and marginalisation, including elders, migrant women, children living in poverty. 
Fabric Works is the training, production and social enterprise arm of Stitches in Time. It offers women, who have an interest in sewing, but with little or no work experience, a safe space to learn new skills.  Here they are able to gain confidence in a supportive and empowering environment and take on work which is paid at the 'London Living Wage'.

"I look forward to coming in and feel like a really valued part of a team. It feels like a
family, like a home, and I feel part of something, and important"
-
FabricWorks participant
You can find out more about Stitches in Time and the amazing work they do here

We've worked with Stitches in Time on quite a few projects now but this little pocket bag has to be our favourite.  Perfectly proportioned it's our new go-to bag from dog walks to festivals and all the summer days inbetween.  The mini size of our pocket also means we get to use up all the odds and ends from our larger production runs so that nothing goes to waste.  Currently available in un-bleached 100% cotton. 
More colours and styles coming soon..watch this space.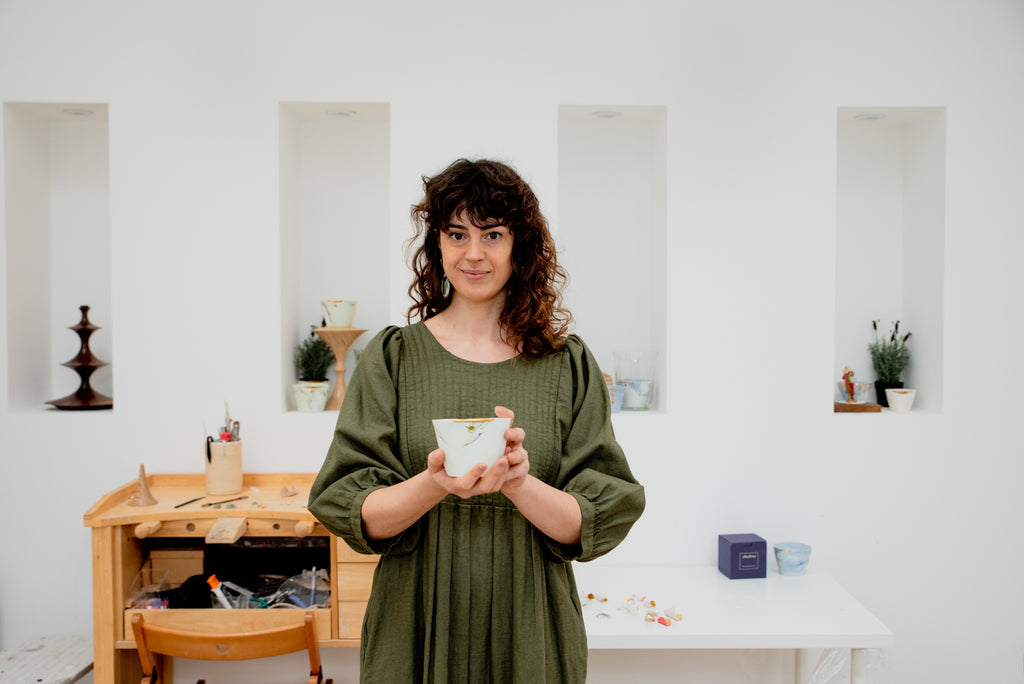 Designer and sculptor, Ana has been working with porcelain since 2004 and founded Abalon Studio in 2015.
Using mostly Corallo Porcelain, Ana's production processes are all done by hand.  Natural forms and shapes influence her collection of lighting, which includes individual candle holders, light shades and pendants.  Alongside these larger pieces Ana also crafts jewellery. Using 9k gold and precious stones, such as sapphires and pearls, she combines them with porcelain to make beautiful one-of-a-kind pieces.
We were lucky to be invited to her West London studio where we got to hang out with Ana (and Cilla-the-Staffy) and talk all things ceramic.
TR:  Where does your love of ceramics come from?

ANA: I got into ceramics when I took a class whilst studying and fell in love with it immediately.  I loved the feeling of clay in my hands and the way I could shape it into whatever I wanted...  There's also something very satisfying about creating objects with your hands.  I find the process to be meditative and grounding, and the possibilities are endless.    From my early time using clay I was always haunted by the translucency of porcelain and its application in art.
TR: Where do you draw your inspiration from?
ANA: Many places, from nature and the world around me to other artists and designers.  I'm particularly drawn to the work of Japanese potters and their emphasis on simplicity, functionality and natural materials.
 Ana wears Quilt Dress in workwear blue linen and large Pioneer Tote in tan.
TR: Colour is so important to our collection and we can see that blue is particularly influential to you, is there any significance to this?
ANA: I love blue! It's both calming and peaceful.  It reminds me of the ocean and the sky.  I also love the way different shades of blue can evoke different moods and emotions.
TR: So much of what you do 'creatively' resonates with us..
ANA: Yes, I think we share many of the same design principles.  My love for ceramics comes from my appreciation of the craftmanship involved in creating something beautiful and functional from natural materials. Also, like you, I appreciate the attention to detail and the quality of these materials.. I love that your pieces are understated and elegant.
 Ana wears Quilt Jacket in olive linen and Quilt Dress in wholewheat linen

Abalon Studios will be exhibiting as part of Clerkenwell Design, London Craft Week, 'Material Matters' exbition and 'Light 23' also in London.